Dr. Ralph Everly Jr., DDS - Carmel Dentist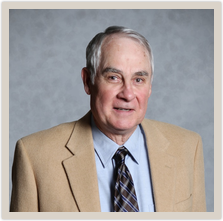 Ralph V. Everly Jr., DDS
Dr. Ralph Everly was born and raised in Indianapolis. He graduated from Broad Ripple High School and then went on to attend Indiana University, where he received his Bachelor of Arts degree in Zoology. Dr. Everly then graduated from Indiana School of Dentistry in 1968. After dental school he spent two years in the Army Dental Corps and served one of those years in Vietnam as a dental officer.
In 1972 Dr. Everly started the dental practice in Carmel, IN. Dr. Steven Hockett, his brother-in-law, joined the practice in 1977 and then Dr. John Everly, his son, joined the practice in 2001.
Dr. Everly is a member of the American Dental Association, the Indiana Dental Association and the Indianapolis District Dental Society. He has served on the Peer Review Committee of the Indianapolis District Dental Society and served several years on the Indiana Dental Association House of Delegates.
He and his wife, Mary, have three children and seven grandchildren.